THE HISTORY
Ours is a story of devotion
To nature
To the territory and its people
To the traditions handed down through generations
To quality without compromise
To authenticity, from raw materials to processing chain
To research, selection and product innovation.
Ours is a Good History
Early '50s – The beehive park and the family's rural house
'50s-'60s – Honey harvest with the first little wooden frames
Early '60s – We leave for the high mountain harvest
'60s – An exceptional swarm of bees
'60s – The first exhibitions in Piedmontese fairs
'70s – First commercial label of the Brezzo Company
'80s – One of the first institutional advertising images
'90s – Institutional photo in a field of dandelion flowers
How did we start? With a honey extractor on a bicycle.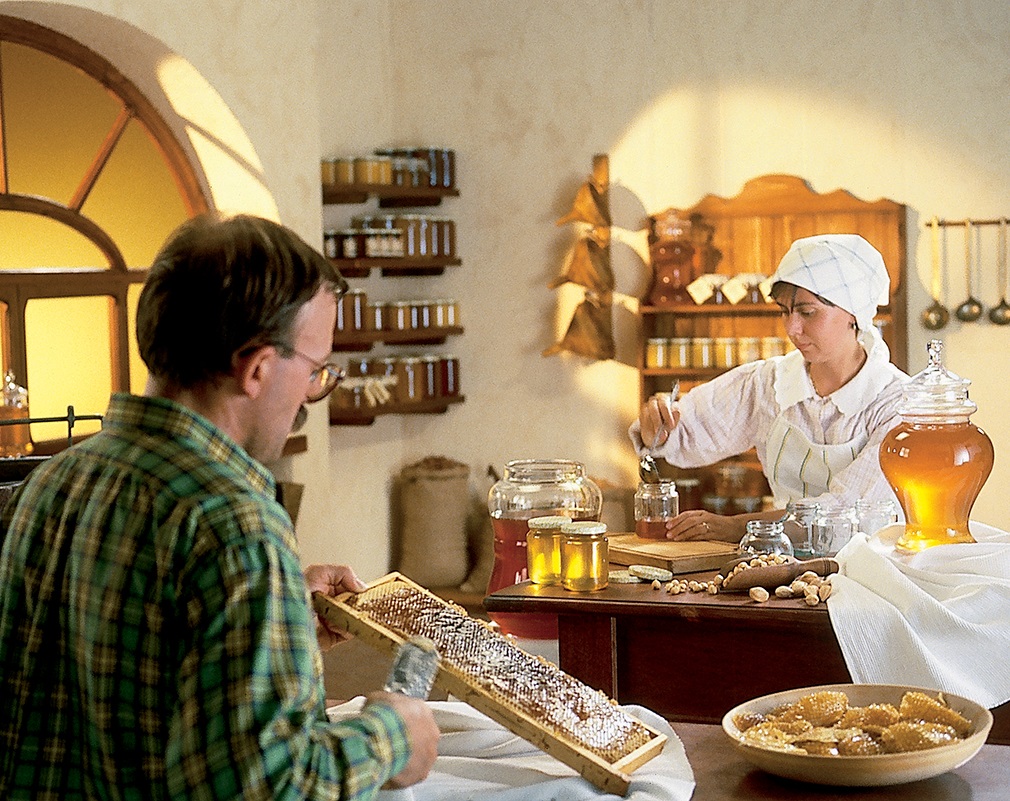 1948 | Brezzo apiculture
Grandfather Gervasio is a man of the countryside: he knows the land and its fruit, animals and fatigue. He lives of traditions and insights: like that one of honey, pride of the Roero, excellence of his beloved land. Brezzo Apiculture is born in Monteu Roero and even today is synonymous with quality handcrafted honey.
1950 – 1970 | Nomadism
Moving the bees, what madness! But grandfather Gervasio has an idea: to take his beehives in the beautiful valleys of Cuneo and produce mountain honey. He loads the beehives and honey extractors on his bike and cycles to reach the heights where the rhododendrons bloom. His passion also infects his younger brother, Carlo, who even today is dedicated to beekeeping. Brezzo is one of the first companies in Italy to practice nomadism of bees. For over fifty years we have continued to move our hives in search of the best flowers and pollen, offering a wide variety of honey which reflects its home territory.
1970 - 1980 | Rooted in the territory
The company consolidates and expands. Brezzo Honey is a yard stick in the local market for its quality, care and genuineness. The two sons of Gervasio, Giuseppe and Mario, join the company. Brezzo is a recognized reality well rooted in the territory.
1980 – 1990 | From honey to quality food ideas
The artisan wisdom gained from beekeeping spans a wider range of products, making the most of local ingredients. Brezzo quality food ideas are born: innovative products, designed for the needs of a changing world that asks for quality, authenticity and excellence.
1990 – 2000 | The Brezzo Selections
Brezzo opens up to foreign markets and strengthens its sales network. The Monteu Roero company selects specialities from Italy and the world. The Brezzo brand is a guarantee of reliability, quality, craftsmanship and the selection of agricultural, cultural and gastronomic products of the highest order.
2000 – oggi | The third generation
Andrea and Fabio join the company. The third generation of Brezzo faces the challenges of the new millennium: innovation in the full respect of tradition, working on the brand: dynamism, stability, creativity and communication.